Welcome to our weekly newsletter, bringing you interesting updates from across the B. Braun Group of companies in the UK during the coronavirus pandemic.
Communication will be critical in the coming weeks and we promise to share information that is timely, clear, transparent and frequent.
We will share the newsletter via a link from our twitter channel @BBraunUK every Monday - We will pin it to the top of our page so you can't miss it!
Happy reading.
Tuesday 26th May 2020
Tuesday 26th May 2020
Aesculap win iF DESIGN Award 2020
Aesculap triumphed together with WILDDESIGN® at the iF DESIGN AWARD 2020! The SQ.line® basic orthopaedic instruments impressed the jury of experts with its ergonomic and sustainable properties as well as its particularly precise and careful manufacture. After winning a Red Dot Award: Product Design 2019, this is already the second award for the instrument set.
Read the full article HERE
 
Education video for Cath Lab teams
Watch our virtual DCB educational video, covering all aspects of DCB technology from the history of angioplasty through DCB development, indications and guidelines/tips.
For access detail please email emily.burke@bbraun.com
Stay Alert
Take care: even when in some countries measures are reduced in public areas - health care workers and our employees around the globe have to stay strong and keep the supply for care running.
#wearebusy because our customers are  
Free webinar
We were delighted that Mr Alberto Gregori and Dr Trish O'Connor delivered the B. Braun team a webinar about World Orthopaedic Concern UK - a charitable organisation dedicated to improving the standard of orthopaedics, trauma, and reconstructive surgery in low/middle income countries. We recorded the fascinating 45 minute session, focussing on work being done on Zambia, to share with you.
This video contains images that some viewers may find distressing
Monday 18th May 2020
Supporting Innovation
We're delighted to be supporting the Innovation Lead role at @ASiTofficial; William Bolton has been awarded this fantastic opportunity. William's aim is: to foster surgeon-industry collaboration; improve innovation skills; and empower trainees to effect change to benefit their training and patient care!
Watch this space for more information.
Follow William on Twitter
3D Cardio-Thoracic Surgery Training
We are pleased to offer free digital product training for the application of our EinsteinVision® 3D system in minimally invasive mitral valve surgery.
With this new digital discussion platform we provide a panel for cardiac surgeons who are interested in getting an overview about the essentials of our EinsteinVision® 3D system in cardiac-thoracic surgery.
The training is conducted using Microsoft TEAMS on May 27, 2020 8:30 – 09:40 (UTC +02:00 Berlin/Germany)
Every Little Helps
Thank you to our Wound Care Rep Sean for sending this thoughtful package to Doncaster and Bassetlaw Teaching Hospitals NHS Foundation Trust; with a little artistic help from his daughters! #weareteambb
An international thank you from B. Braun
We all remember moments, when there is a nurse caring with passion and giving us great comfort. Let us celebrate this passion of nurses and show our gratitude for their support in protecting and improving the health of people around the world.
Monday 11th May 2020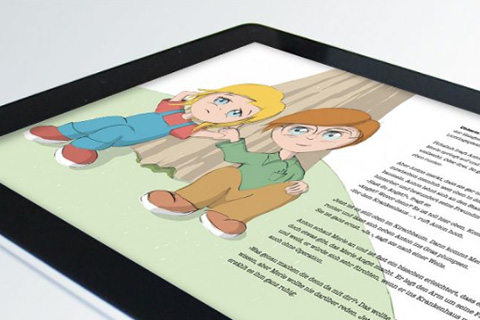 B. Braun for Children Campus online
The digital learning platform offers age-appropriate educational videos, interactive games and exciting tasks and exercises for children. The digital learning platform is a joint project of
B. Braun and the Aesculap Academy as part of the CSR initiative "B. Braun for Children".
The learning platform can be accessed here
Supplying for Patient Transfer
B. Braun were delighted to supply infusion pumps to the Essex and Herts Air Ambulance, Ben Myer, Clinical Manager at Essex & Herts Air Ambulance said:
"EHAAT continue to support the regional and national effort to respond, not only to those with critical injury and illness, but also now to be able to transfer COVID-19 patients by road between hospitals depending on their clinical need. This is a relatively new step for us at EHAAT, especially given the sometimes complex nature of these poor patients. We always have safety at the forefront of our mind and therefore we have needed some specialist pieces of equipment that previously we have not required. There has been massive support from many suppliers, one of these being B. Braun who have now supplied us with 6 syringe pumps that will allow us to maintain hospital level care while we transfer these patients. These are sought after pieces of clinical equipment and we are extremely grateful to all their staff who are working so hard to be able to support ours and the NHS efforts to care for the patients"
#WeAreBusy because our customers are  
Last week we installed new Haemodialysis machines into Queen's Hospital ICU in Romford to assist with the ongoing COVID-19 response; ensuring patients have access to critical renal care should they require it.
B. Braun Sheffield Sharks
Here at B. Braun we are very proud of our long-standing relationship with the Sheffield Sharks Basketball team who compete at elite level in the British Basketball League. Together we organise CSR programmes for school age children as part of our B. Braun B Healthy campaign. 
This season has been somewhat curtailed due to the Coronavirus pandemic so Sharks' Head Coach, Atiba Lyons and good friend (but fierce on-court rival), Rob Paternostro of Leicester Riders, got together via Zoom to talk all things basketball.
Here is what they had to say (link opens in Facebook)
Verses versus Covid-19!
A big thank you to the NHS from our Aesculap ACS team, a poem kindly written by ACS team member Kadeem Pringle's Auntie. The team look forward to seeing you again soon. #weareteambb
Monday 4th May 2020
Can we help you?
We're here to support you during this challenging period, you can order any B. Braun #diabetes meters, pen needles or educational literature via our website or the contacts below:

FREEPHONE 0800 840 0498
diabetes.bbmuk@bbraun.com

Back in the air, saving lives
B. Braun are proud supporters of The Yorkshire Air Ambulance, and we were delighted to hear that, effective from Saturday 25th April 2020 and in partnership with Yorkshire Ambulance NHS Trust, one of their Air Ambulance helicopters returned to operational duty.
To find out more about the life saving work the YAA do, click here https://www.yorkshireairambulance.org.uk/

The Transfer Window is open!
Thank you to our #VetCare team; supporting the NHS by transferring stock for use in human health!
#Covid19 #weareteambb

Our people; playing their part
Congratulations and massive thank you to new employee Nick Moyster. Nick performed a Facebook live gig on Saturday afternoon to raise money for NHS Charities Together. This was Nicks 5th gig and this one raised £750.
Also a big thank you and well done to two of our employees' children who have respectively completed a 100k run and a 26 mile cycle, both donating funds to the NHS Charity.

Helping to make surgery safer
ALSGBI, EAES & SAGES recommend the use of smoke evacuation devices to help filter released particles during #laparoscopic procedures.
To learn about the filter efficiency of the #Aesculap Flow50 Insufflator during #COVID19 click here or email sam.miller@bbraun.com
How can we restart elective surgery whilst helping maintain the safety of patients?
Digitisation of rehabilitation with BPMpathway helps patients return home after orthopaedic surgery, maintain contact with the hospital, & free beds for #COVID19 patients
http://bbraun.com/bpmpathway